Although Ladakh is known for its beautiful mountain ranges and plenty of lakes and rivers, there is one lake in particular that stands out for its unparalleled beauty and tranquilly. Stunning in its majesty, the Tso Moriri lake is revealed.
Envision yourself relaxing in the grass next to this beautiful lake as the sun dips and rises and the colours of Tso Moriri shift before your eyes and the wind whistles past your ears; this is nature at its purest. Moving to the core, no doubt.
Tsomoriri Lake, one of the two most well-known lakes in this union territory, is a high-altitude lake (HAL) located in the lower Ladakh region. The steep, brown-hued mountains that surround the lake give the area its moniker, "Mountain Lake." The enchanting blue waters here at an elevation of 4549 metres (15,075 feet) reflect the surrounding snow-capped mountains and offer a sense of natural unity. This location is so perfect it could be mistaken for heaven.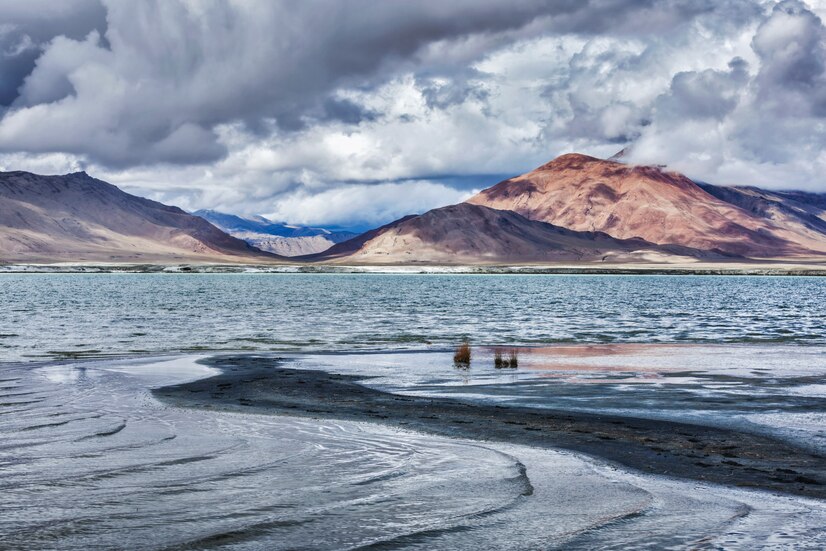 Tso Moriri is a 28-kilometre-long lake that averages 100 feet deep and is home to breathtaking scenery. The Tso Moriri is stunning, and this is in part due to the incredible variety of migrating birds that have made their way here.
1.Getting to Tso Moriri
Now that you've discovered your secret desire for this destination, we'll fill you in on how to get there, so you can visit Tso Moriri and take in its stunning scenery and spectacular vistas for yourself. On Your Visit to Ladak, our Heritage Hotel in Ladakh provides you with all the care and royalty as you visit Tso Kar.
Tso Moriri by Air
There indeed aren't many airport options for getting to Tsomoriri Lake because of its location in the far right corner of the hilly Ladakh region, but that shouldn't dampen your wanderlust. Airports in neighbouring cities provide convenient access to the destination. The Leh airport, Kushok Bakula Rimpochee Airport, is the most convenient option for travellers. Six hours of driving time separate you from the delights of Tso Moriri.
Tso Moriri by Rails
Jammu-Tawi Train Station in Jammu is the most convenient and main train station to Tso Moriri. Every major city in India is within easy reach of this station.
Travelling the 792 kilometres (approximately 22 hours) from Jammu to the lake means you'll need two days to take in all the beauty of this natural wonder.
Tso Moriri by Road
The road provides a significant link between this location and the rest of Kashmir and India. In and around Srinagar, Jammu, and other important cities in Kashmir, you'll find roads that go straight to this lake. The Jammu and Kashmir State Road Transport Corporation does most of the connecting (JKSRTC).
Best Time To Visit Tso Moriri
The Tsomoriri lake is located in the Changtang region of the Ladakh union territory, which has harsh winters. The lake is frozen for the majority of the year, and because of weather and road conditions, no one from outside the area can ever see it.
The summer season is a great opportunity to check out this amazing lake. The lake begins to thaw in April, at which point its original rainbow of hues is revealed.
This lake is at its best during June and August. You won't get too cold while taking in the beautiful scenery.
Places To Visit Near Tso Moriri
TSOMORIRI LAKE VIEWPOINT
Located at a 6.4-kilometre distance, The Tso Moriri Lake viewpoint is a little hilltop in the vicinity of the lake, from which one may take in stunning views of the surrounding area.
From this knoll, you can see across a large section of the lake. The sights here are quite breathtaking. The lake's colours change as the day goes on, and the adjacent mountains, which are covered with snow, are a sight to behold.
KORZOK MONASTERY
25.6 kilometres away, is the Tibetan monastery and immerse yourself in a deeply spiritual experience. As a Buddhist temple, the Korzok Monastery can be found in the nearby settlement of Korzok, which sits on the northwestern shore of Lake Tsomoriri.
The monastery, which was established by Kunga Lodro Ningpo, has been drawing visitors for the better part of three centuries. Beautiful views of the Tso Moriri may be seen from here, creating a tranquil and relaxing environment.
KYAGAR TSO
Situated 28.7 kilometres away, this lake may be found on the way between Leh and Tsomoriri lake in Ladakh's Rupshu valley. Located at an altitude of roughly 4705 metres, the area boasts mouth-watering vistas and a rich variety of wildlife, including yaks and Kinags. A visit to this saline water lake in the valley's upper reaches is a must if you're interested in taking in the breathtaking scenery.
Does Tso Kar worth a visit?
Tso Kar and Tso Moriri are two of the many emerald lakes that are worth visiting. The natural beauty of both lakes draws a large number of nature enthusiasts and tourists. In addition, the surrounding wetlands and marshes are breeding grounds for exquisite birds and unique wildlife.
Where is Lake Tso Kar located?
Ladakh
The remote Tso Kar Lake, the smallest of Ladakh's three high-altitude lakes, is located approximately 50 kilometres from Tso Moriri. It is surrounded by lofty mountains, which are home to the elusive snow leopard, and is situated at an altitude of 4,670 metres (15,280 feet). You can stay at our hotel – Towering over a hill overlooking the valley of Singey Sangpo, popularly known as the Indus River, the 200-year old palace is an endearing landmark, historically, aesthetically, architecturally and socially.
Which is better Pangong or Tso Moriri?
Since Pangong Lake is the most popular, it is more crowded during the peak season. Tso Moriri, on the other hand, is secluded and has a small population. In addition, it is the largest high-altitude lake that is entirely located in India. There is also the opportunity to encounter wildlife.
Is Tso Moriri a Ramsar site?
As part of the Ramsar site wetland reserve, the lake is known as Tsomoriri Wetland Conservation Reserve, and it is prohibited to pitch a tent or construct anything near its shores. It is the world's highest Ramsar site. Numerous species of flora and fauna inhabit the region.