The Leh Palace, in the heart of the city of Leh in Ladakh, was the main residence of the Namgyal royal family of Ladakh and Shey Palace was the summer abode. When the king received word that Leh may be under siege, he had the Stok Palace Heritage built at a distance of 15 kms from the main city and sent his family there for safety.
Even though you can keep an eye over the whole city of Leh and the outlying regions while in the Leh Palace, you will not be able to spot the Stok Palace Heritage from up there. This isn't hearsay and we tried, we couldn't spot it for the life of us, and rightly so, it was built for the safety of the family, not willy nilly (we dare you to find this Heritage Hotel in Leh from the image below). It's so strategically placed that you can see the whole city of Leh, the Leh Palace and Shanti Stupa from Stok but not the other way around.
Stok Palace Heritage is still the current address for the Namgyal dynasty. Another hotel in Leh that you should know about is Chulli Bagh. It's a stone's throw away from Stok (while this is unconfirmed news, don't start throwing stones when you're there). You can take the asphalt road from Stok to Chili Bagh (by walk or wheels, have your pick) or take the original route that was set up which is a bunch of stairs to a beautiful entry stupa and then of course the asphalt road for a couple 100 metres.
On the way to this hotel in Leh, you can spot 100 year-old Willow and Poplar trees that are used to build roofs in Chulli Bagh and Stok Palace which help keep the rooms warm and snug no matter how cold it is outside. If you feel that the heater is on, you may want to check again because heaters are not provided, that's the magic of Willow and Poplar! Unless you've set up your own heater, in which case, welcome to Summer!
Staying in Chulli Bagh is an experience in itself. There are only a couple of rooms and a lot of trees! It boasts of an apricot orchard and an apple orchard within the premises and we do not have any signs that request you not to pluck and/or eat the fruits. In fact it's recommended! If you went all the way to Leh and didn't eat apricots and baby apples plucked right out of trees, did you even experience Leh?

There is a common dining room where you can request the full time chef to prepare any cuisine and dish of your choice. The extroverts can choose to eat their meals here and mingle with the other residents and the introverts can choose to eat in their rooms. The ambiverts can mingle for a while and then venture out in the open. An organic garden has also been set up right in front of the dining room. It's fairly new and depending on when you choose to visit, you may or may not see your favourite vegetable growing there.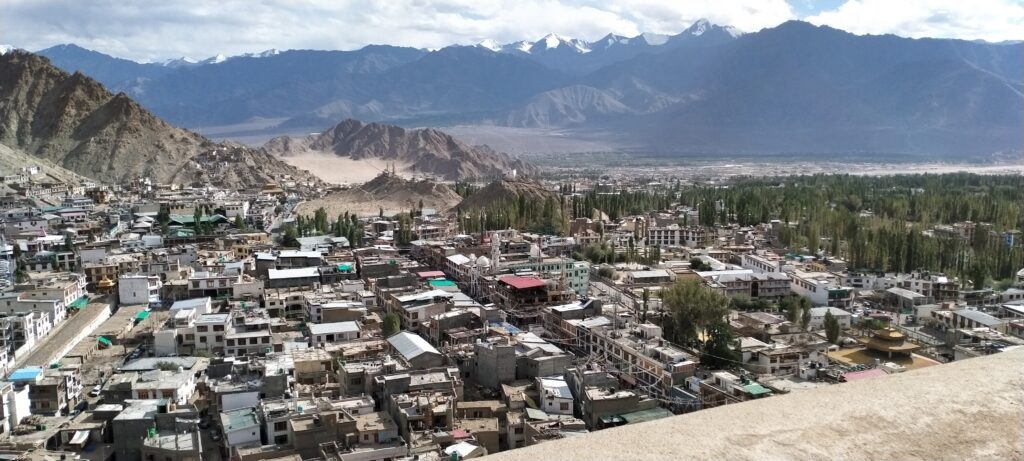 There are various stupas that have also been built in the premises of this snug hotel in Leh and you can choose to sit by them while you meditate or pray and stare at them.

Chulli Bagh is managed by the Stok Palace team so if you wish to go on any sightseeing tours, be sure to get in touch with the staff and they will be more than happy to help you out.