Pre-wedding shoot in Leh Ladakh – Everything you need to Know!
The complete guide to your engagement photo shoot in Leh Ladakh! Everything you need to know, from accommodations to travel, is provided here.
Consider organising a divine pre-wedding photoshoot in Leh Ladakh. Yet you're having trouble deciding how to proceed? Are you curious?
Where?
How to get there?
Where to stay?
Do not fret. We have your back.
First Things First
Couples who wish to experience the excitement and thrill of a strange photoshoot as well as a weird photoshoot frequently choose Leh Ladakh as their destination.
Therefore, do your research before booking your ideal pre-wedding photo session.
How to reach Leh?
The journey to Leh is not straightforward. But don't let that deter you; we've provided a thorough guide that details all the ways to go to your ideal spot.
By air – You must first be in either Delhi or Srinagar before you can take a 1- to 1.5-hour direct journey to Leh. Although there are no aircraft coming into or leaving from Leh after midday, make sure to start early to maximise your time there.
What's the best thing about flying? If you're lucky, the flight will afford you some breathtaking vistas of the Himalayas.
By road – On the other hand, you can also get to Leh from Manali using public transportation or by signing up for bike trips. This enables you to see Leh Ladakh as it truly is!
By train and bus – Jammu Tawi, which is about 708 kilometres from Leh, has the nearest train station. You can take a train to Jammu Tawi and then a taxi or bus to get to Leh, where you can arrive in about 15 hours.
Where to stay in Leh Ladakh?
In this high-altitude position, finding a quality hotel isn't that difficult. In Leh Ladakh, you'll find a surprising array of luxurious and reasonably priced lodging alternatives. Stok Palace Luxury hotel in Ladakh is still a fantastic option. As a boutique hotel, Stok Palace now welcomes guests into its sacred gardens, hallways, and even its private monastery.
Where to get your "Oh-so-Bollywood" style Photoshoot in Leh?
Lake Pangong (Tso)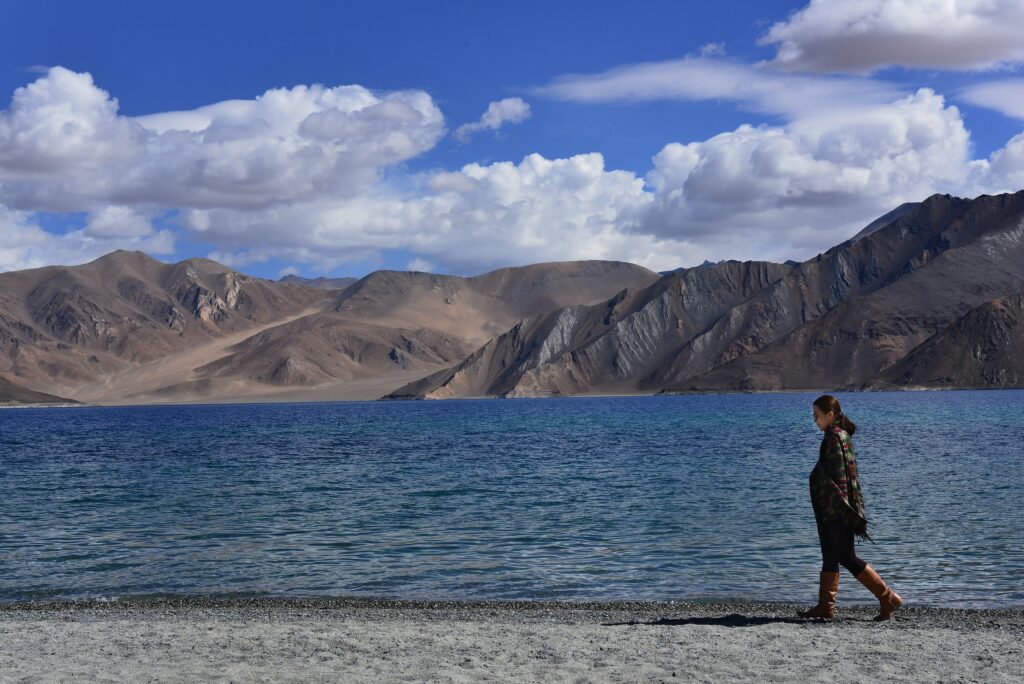 The most breathtaking blue colour of Pangong Lake in all its pure beauty can be seen just 160 kilometres from Leh. Do you recall the closing scene from 3 Idiots where Kareens Kapoor and Amir Khan ultimately get together? Yes, that lovely lake is the ideal setting for all of your photo needs!
Don't give up hope just yet, even though it can be a little challenging to obtain drone licences at Pangong Lake. Tso Moriri Lake, Tso Kar Lake, Stat Tso, and Lang Tso are the other three similarly captivating lakes where you can obtain your drone permissions for that dramatic bird's eye shot.
Nubra Valley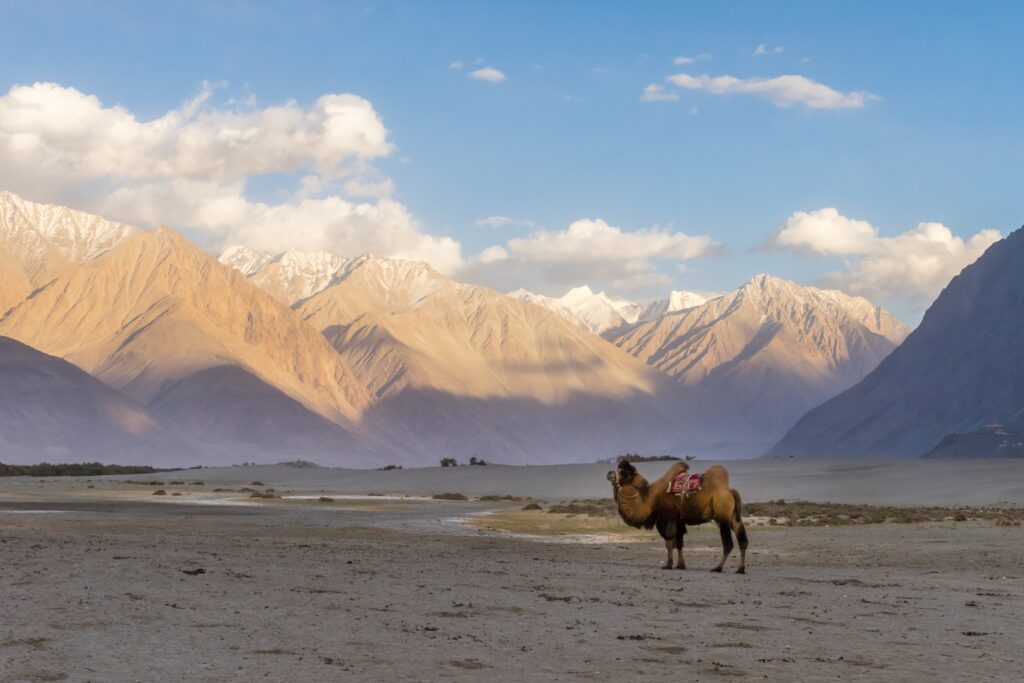 To get to the Nubra Valley from Leh, you have to pass the Khardung la, which is renowned for having the world's highest motorable road. The scenery, which was painted in tones of brown, grey, white, and golden, can become your favourite location for photos with your significant other, especially at sunset.
Magnetic Hills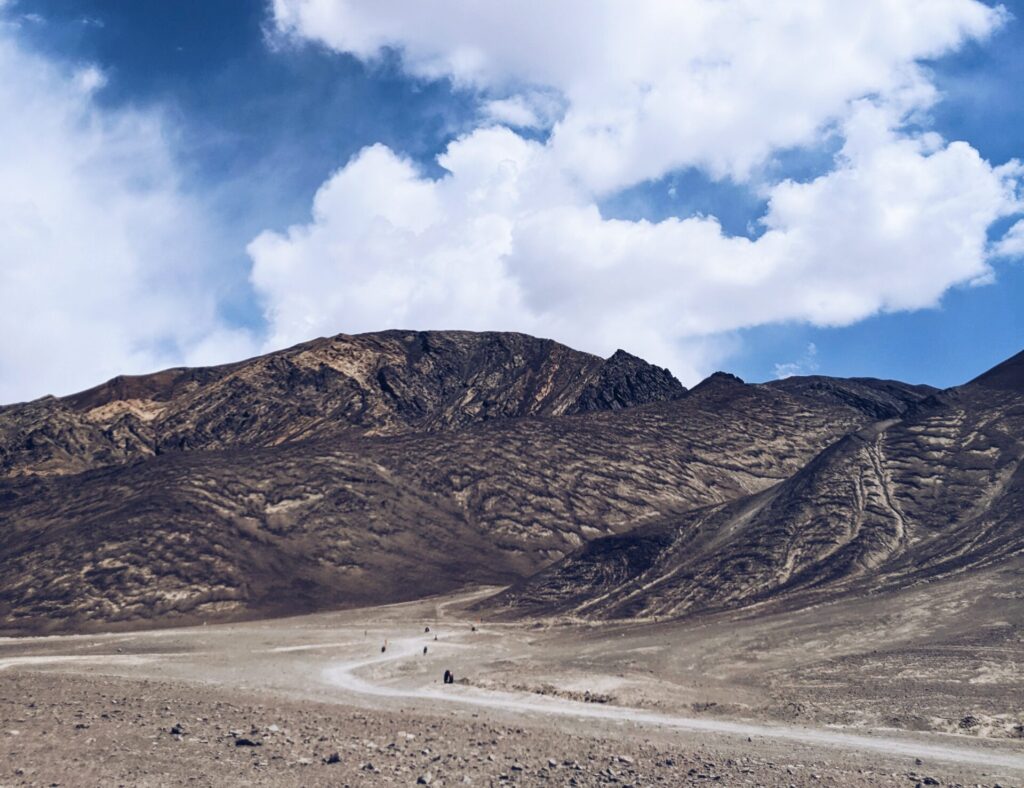 It has the sole anti-gravitational visual effects of any cyclops hill in all of India. Here, you can witness and document enigmatic anti-gravity action in photos and films.
Monasteries and Local Highlights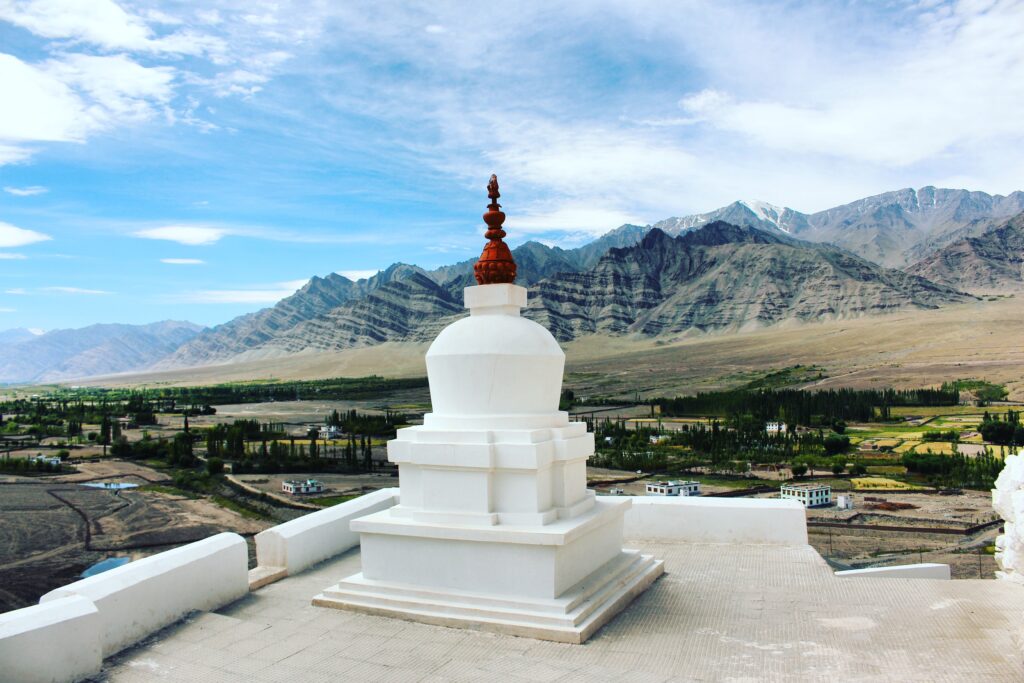 For couples looking to add a splash of colour to their photos against a mountain backdrop, the Shanti Stupa in Leh is a favourite destination. If you want to ascend the stupa, do it at dawn or dusk. Additionally, avoid ascending the Shanti Stupa on your very first day!
On the other side of the stupa is the Leh Palace. The Leh market's lanes, which are lined with shops that resemble museums, provide for a great area to stroll and take candid photos.
Travel between the Destinations to Leh Ladakh
Nubra Valley to Leh
It takes roughly 5 hours to travel 100 kilometres to reach Nubra Valley from Leh. The imposing Khardungla Pass, which is open all year round, is the primary road entry to Nubra Valley. You can simply go to Nubra via public transportation, shared taxis, or your own SUV that you have rented.
Pangong Lake to Nubra Valley
The Khardungla Pass is the most popular route for getting to Pangong. Yes, you heard me correctly; you would have returned from Nubra to Leh using the same path. It is typically advised that you return to Leh from Nubra and then make the 8–10-hour trip to Pangong the following day.
Take it easy, and don't rush. Small, deliberate steps are best. The scent of the blossoms can be intoxicating. Observe the scenery as it changes throughout the day. Take your time and move slowly. (Seriously, climbing a single flight of stairs can leave you gasping for air because of low oxygen levels!) Unfortunately, you'll have a lot of time on your hands here because there's no train to catch.