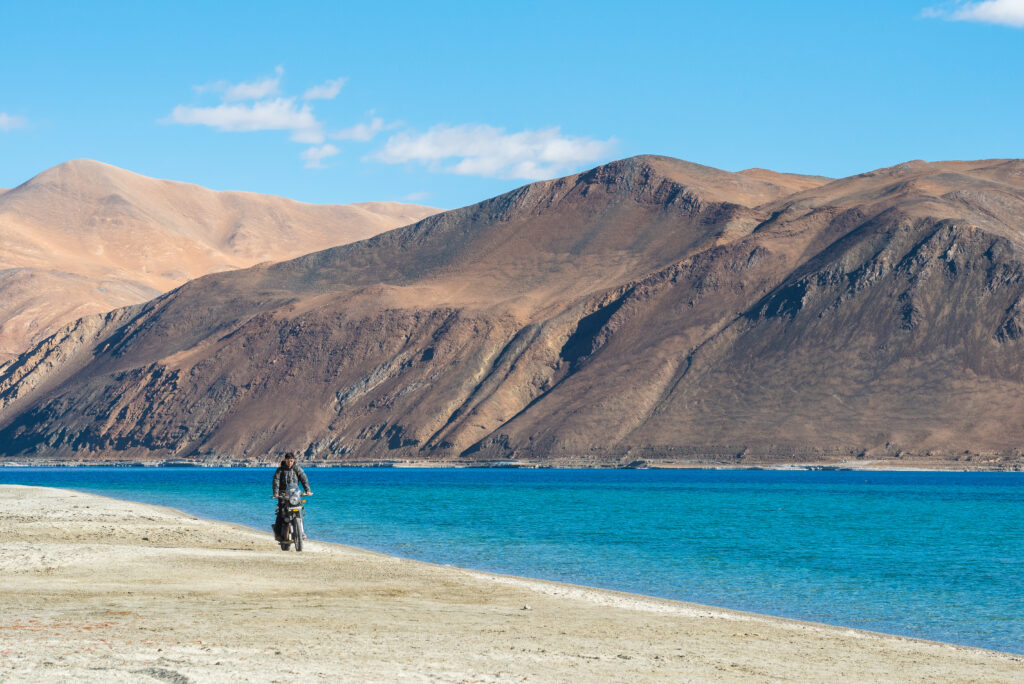 What comes to mind when you hear the word Ladakh? Mountain ranges? the convents? What lakes? If you enjoy driving, the country's meandering highways and mountain passes will undoubtedly flash before your eyes. Your bikes must beg you to take them on a long drive, and Ladakh is the only destination that will satisfy both of you. You are quite fortunate because it is now simple to organise and embark on a Leh Ladakh bike tour. How and why do you know? because many adventure clubs and travel companies have begun to plan such amazing vacations. Make your ride to Stok Luxury hotel in Ladakh to explore the prepossessing places around.
Explore Leh Ladakh Motorbike Tour
The number of people doing bike trips to Ladakh has exploded in recent years. And recognising the trend, an increasing number of organisations and tour operators are developing self-drive or group drive itineraries to the unique "Land of High Passes." Such bike adventures have become increasingly popular for a variety of reasons, and after reading about them below, you might be even more motivated to try one of them out.
Bike Tour of Ladakh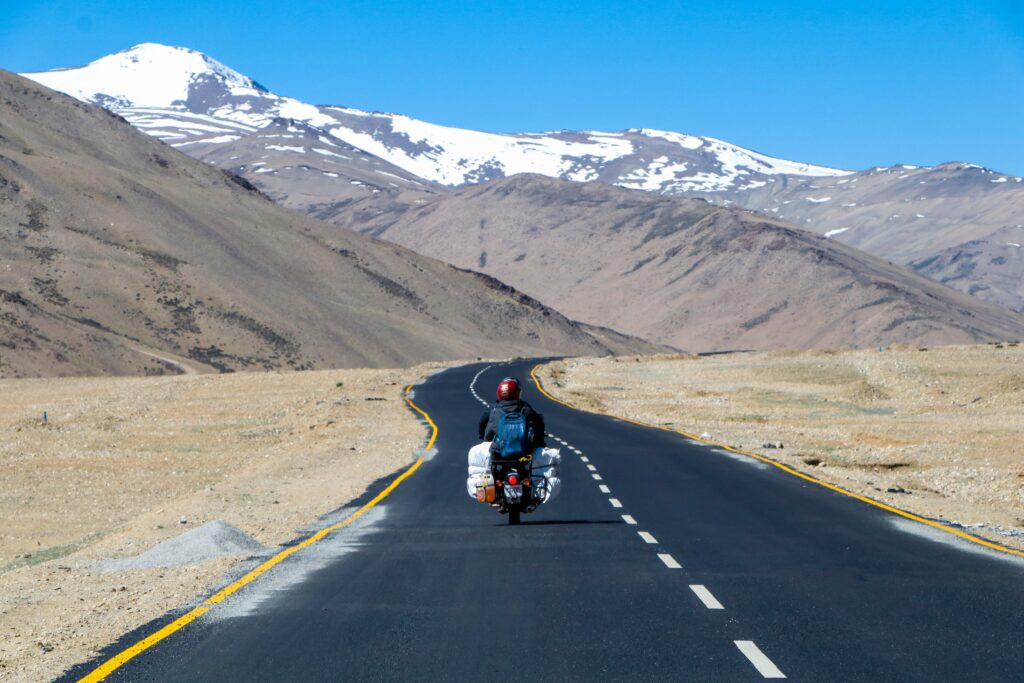 The Ideal Summer Vacation
The summer heat is one of the key factors driving people from the plains to the mountains. The ideal spot to visit to avoid overheating—not of your electrical gadgets, but of yourself—is the cool realm of Ladakh. Ladakh is largely unaffected by the sun, even while the plains are being cooked like hamburgers on a griddle. Here, summer temperatures rarely rise over 25 degrees Celsius.
Freedom to Follow Your Own Path
Many of you might question why taking a bike excursion to Leh Ladakh is preferable than taking a traditional holiday. The simple solution is that pre-planned excursions don't always provide you the opportunity to forge your own path. Most itineraries have set times allotted for sightseeing, and most only provide a limited amount of time at each attraction. But what if you really enjoy a location and want to stay there longer? That is not always possible. When you go by bike, you may go at your own pace and stop wherever you wish along the way. You can always catch up later if the remainder of the group overtakes you.
Another justification that might be offered in this situation is the question of why a bike excursion particularly, as opposed to, example, a Jeep drive. Undoubtedly, you can accomplish it on a Jeep, but you won't be able to feel the wind in your face like you can on a bike even if the windows are open. The bike's loud engine noise, which echoes off faraway mountains, provides drivers a sort of euphoria that only they can really comprehend. Ladakh
A Chance to Camp amidst Nature
The lodging is another way that bike excursions to Ladakh surpass tour packages. The majority of trip packages would fly you to Leh and then provide lodging for you there. I love comfort, but there are times when the call of nature is far louder than the call of comfort. In some cases, staying at a camp is preferable to doing so in a hotel. You may stop at locations like Sarchu and Jispa on a Ladakh bike journey to camp outside and enjoy the cleanest air in the world. If any of your acquaintances recently made such a trip, they must have informed you that at night they had the most unobstructed view of the Milky Way.
In addition to Jispa and Sarchu, there are many more locations in this region where you can set up tent, including the shores of Pangong Tso, the lake that appears in the film 3 Idiots, and sand dunes in the Nubra Valley. You can set up tents wherever you find a place to do so if you are not joining a formal tour and are instead travelling independently on your own bikes. The area in Ladakh, Morey Plains, would provide a stunning location for camping. A well-built highway surrounded on all sides by nothing but wide-open areas and distant mountains… Where better to stay? Additionally, since doing so on the mountainous portions is strictly prohibited, this is the place for you to open the throttle and accelerate quickly.
Journey of Contrasts
A motorcycle drive across the area is, at the very least, a journey of contrasts. Nothing is static, whether it's the surroundings, the people, or the drive itself. Whether you take National Highway 1 to Srinagar, National Highway 1D to Ladakh, or the renowned Leh-Manali Highway, the scenery will change dramatically right away. As soon as you cross Zoji La (NH1D) or Rohtang Pass (Leh-Manali Highway), you'll notice that the vegetation is gradually disappearing and a desolate landscape is starting to take shape. Someone like me would frequently pause at different intersections to compare the landscape's changes and take pictures for reference. You may complete a loop, entering Ladakh from Manali and leaving via Zoji La near Srinagar, for the ultimate experience. Your tour will go full circle from greenery to aridity and back to vegetation.
As soon as you enter Ladakh, you'll notice that even the locals have distinctive features and garb. Because Buddhism is the primary religion of Ladakhis, you won't find any temples, mosques, or gurdwaras in this area. Instead, you will see Buddhist monasteries. You might see a monastery in every town or village you travel through, either perched on a hilltop or constructed on a flat piece of land. In keeping with my earlier statement that bike tours give you the opportunity to stop anywhere you like, you can certainly visit every monastery along the way.
Possibility of Driving on Snow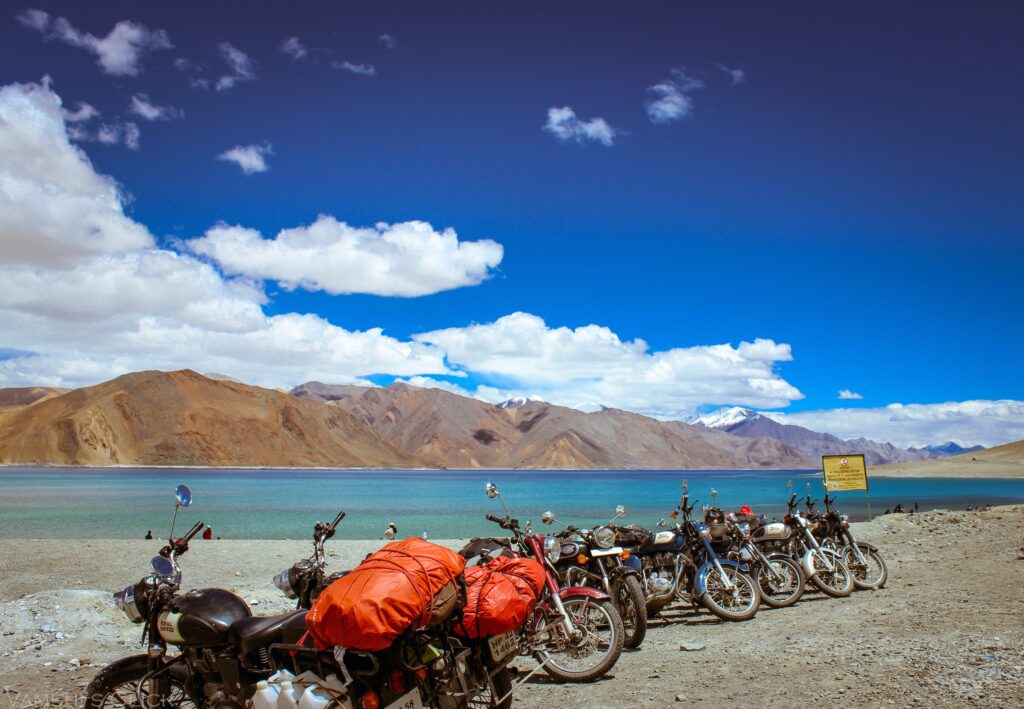 I'm not referring to mountains that are 20,000–25,000 feet high when I say there are spots in Ladakh where you can almost always count on seeing snow. Of course, these locations are the mountain passes for which the local roadways are famous. Passes above 15000 feet in elevation, such as Khardung La, Chang La, Tanglang La, Kunzum La, Lachulung La, and Nakee La, may still contain snow even in the summer. So keep a pair of snow chains with you to help your metal beast effortlessly grasp the ground. It would be painful and chilly to slip on the frozen ice, so you wouldn't want to!
These are not the only factors contributing to the popularity of motorcycle excursions in the Ladakh region. When you speak with people who have actually taken part in such journeys, you will learn of many more. However, these should be sufficient to convince you to pack your motorcycles and travel to Ladakh. Remember that you only have a very limited window to do this because the area will be virtually impassable during the winter. You can only ride a bike here in the months of June, July, August, and September.