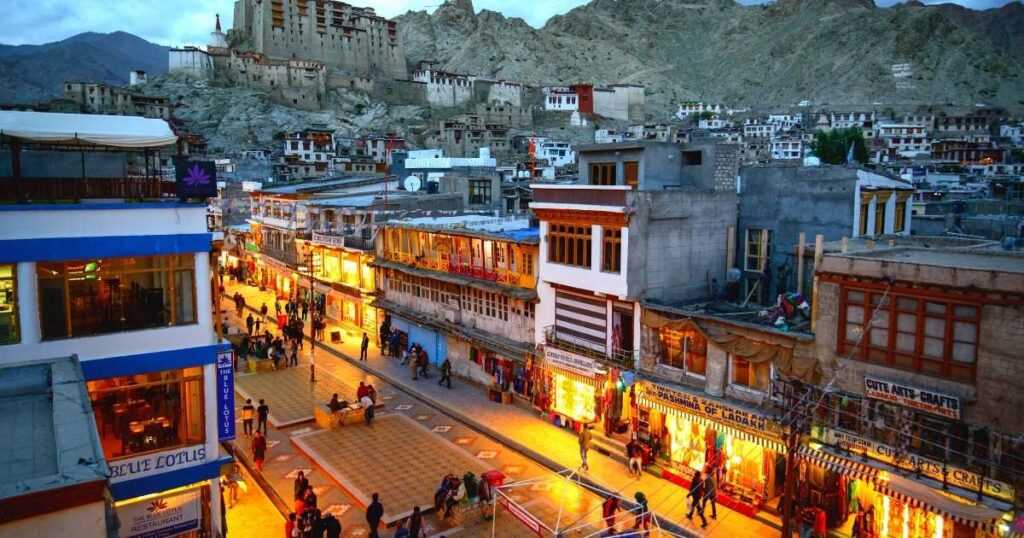 If you intend to travel to Ladakh, you must stop by some of the most well-known locations there, such as Padum Valley, Nubra Valley, Tso-Moriri Lake, The Hemis Monastery, and Pangong Lake. It is clear that every location is surrounded by breathtakingly magnificent natural beauty. And after experiencing these, you can go to the Ladakh shopping destinations listed below to satisfy your inner shopaholic! 
Stay at our Luxury Hotel in Ladakh and take in the beautiful scenery while being just a short distance from all the shopping you could ever desire.
Moti Market
Ladakh may seem remote from civilization, but that hasn't stopped the inhabitants from dressing stylishly. In addition to traditional Tibetan clothing, the Moti Market also sells other woolen clothing and accessories. One of the oldest markets is said to be this one, which is situated in Leh. It is just located at a distance of 15kms from our hotel in Ladakh. In addition to clothing stores, the market also houses a wide variety of Tibetan antiquities.
Tibetan handicrafts crafted with the utmost care by skilled craftspeople are available for purchase. Each piece is exquisite and of the highest caliber. You can get a woolen shawl for yourself or your parents or modest trinkets for your pals if you don't want to spend a lot of money.
Zanskar Arts
Zanskar Arts is a charming little store in Leh's main market area, but the reason it deserves special attention is that in addition to fine wool clothing, it also carries trinkets and miniature figures. Due to the softness of the shawls and sweaters made of pure Pashmina wool, the store is not only well-liked by the locals but also by tourists. You may also purchase Kashmiri bedsheets, clothing, shawls, and other items there that are incredibly popular in India.
This shop also sells leather goods, which are an excellent investment because of their high quality. The metal sculptures are incredibly beautiful and vibrant. Along with the superb products already stated, the store also offers silver jewellery, which is quite well-known in Ladakh. The objects' exquisite design will undoubtedly capture your attention.
Main Bazaar
If you travel to Ladakh, you must go to Leh's Main Bazaar to experience the region's genuine atmosphere. In addition to being well-liked by tourists, practically all of the locals go to this market frequently to buy everyday items. The majority of the market's goods are both reasonably priced and of high caliber. Along with providing you with reasonably priced goods, the area will also give you a window into the daily lives of the people who live in Ladakh.
You'll be able to purchase items manufactured by shop owners in the market, and you'll be astonished by how intricate the process was. Additionally, there are shops in the market that sell the famed Ladakhi silver jewellery, which is both stunning and surprisingly affordable. Even if the prices of all the things in the market are fairly reasonable, you can still get a better deal by haggling. The main bazaar in Leh is the best spot to go shopping if you want to keep your costs low.
Himalayan Pashmina Shawls
The world over, as well as in India, Kashmiri handicrafts are well known. You may purchase handicrafts from Kashmir in Ladakh at the Himalayan Pashmina Shawls shop. The shawls are made of pure Pashmina wool and are wonderfully soft. As you are aware, it might be difficult to find pure Pashmina wool because it is so uncommon. But because it sells woolen clothing made of Pashmina, this business is well known among Indian and foreign travellers.
Since its establishment in 1975, the store has gained considerable international recognition for the high-quality goods it offers. Even though the results could be a little expensive, they are still worthwhile.
Dalai Lama Charitable Trust Handicraft Emporium
Ladakh is a place where many Dalai Lama supporters reside. As you browse in Leh Ladakh, don't forget to stop at the Dalai Lama Charitable Trust Handicraft Emporium. Since it is a charitable organization, the local artists benefit from the sales of the goods at this shop.
This gives them motivation and sustains them while they promote their craft. His shop has a wide selection of regional artwork and handicrafts. From artworks to woolens to artifacts, from shawls to shawls, this shop has a wide variety of items for sale. Therefore, you should undoubtedly stop by the emporium if you want to promote and support the local artists.
Tibetan Handicraft Emporium
The Tibetan Handicraft Emporium is another place to go shopping when in Leh Ladakh. Numerous tourists stop by this business year-round, which is run by Tibetan refugees. The store's standout items are the exquisite handicrafts and antiques that exhibit the craftsmanship and are also reasonably priced.
One can purchase a wide variety of items from this shop. Various home goods, wonderful gifts, silver and stone jewellery from Ladakh, and much more. Although this shop may be among the more expensive ones compared to the stores bordering Main Bazar Road, the sheer number of things it carries can be bewildering. So, indulge your shopping addiction amidst the snow-capped Himalayas.