Grand, vast, massive, serene and gorgeous are some of the words that are synonymous with Leh, Ladakh. You could sit forever in the serene monasteries, wow at the grand designs of the royal castles, and drive around and above the massive mountains and still feel like one lifetime isn't enough to take it all in.
Speaking of driving around and above mountains, some of the world's highest motorable roads also call Ladakh home. The ones that you have definitely heard of are Chang La Pass and Khardung La Pass that are at whopping heights of 17,586 ft and 18,380 ft respectively.

That's roughly 60% the height of Mount Everest, the tallest mountain in the world! If you didn't audibly gasp, are you even human?
Also, if you're planning to travel to Leh in the near future, Khardung La Pass is on the Leh-Nubra Valley route and Chang La Pass is on the Leh-Pangong Tso Lake route. So if your itinerary includes these 2 locations, be rest assured that you will drive past these breathtaking locations (and probably have your breath literally taken away if you decide to stay there longer than advised).
All the credit goes to the Border Roads Organization (BRO) and the Indian Army for undertaking these initiatives.
And the latest feather in the hat of the Indian Army is Kela Pass (or Khela Pass/Keyla Pass) which has become the highest motorable road by civilians at a height of 18,600 ft. This pass is also in the Leh-Pangong Tso Lake route and reduces the travel time by 40 minutes!
If you think that this is just another "highest motorable road", think again! Previously unexplored locations, villages, medicinal plants, snow-capped mountains and glaciers, and Kela Tso Lake have now been made accessible thanks to Kela Pass. It also allows for safe passage of the military convoys from Leh to Pangong Lake.
And again, let's not forget who made this seemingly impossible task possible, the 58 Engineer Regiment of the Indian Army.
For those of you who have already read a lot about the highest motorable roads in the world and are wondering how we could skip Umling La Pass, we haven't forgotten about it.
While Umling La Pass currently holds the record for the world's highest motorable road at 19,300 ft, it can only be used by Indian Defence personnel or by taking special permission from the Indian Army. So if you do try to drive or ride there as a civilian, you will be shot dead. If you think that's a joke, you may want to refer to this picture plastered around the Leh airport defence area…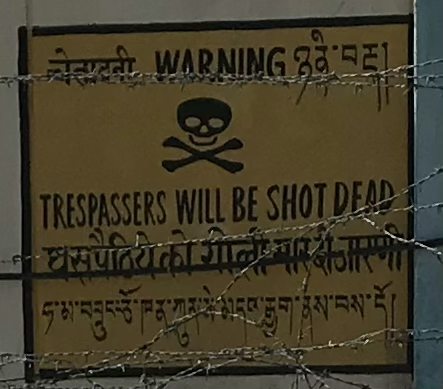 So, you have been warned!
No special permissions need to be availed to travel to Kela Pass. The ecology fees that you pay and the permit that is provided to you by uploading your ID is permission enough. You now have the option to take the longer Leh-Chang La Pass-Pangong Tso Lake route or the 40-minute shorter (and new) Leh-Kela Pass-Pangong Tso Lake route. But you only live once, so why not visit both. Both are equally daunting and breathtaking.
It is advisable to not spend more than 20 minutes at these altitudes as it could result in AMS (Acute Mountain Sickness). If you're breathing heavier than usual, click the obligatory pictures and continue onward.