A sacred and calm lake, under the clear blue sky, surrounded by high barren mountains on all sides, Tso Moriri lake is truly magical. Located in the Changthang region of Ladakh, about 250 km from Leh it is the largest high altitude lake in India at a height of 4500m. This blue, beautiful pallet lake is 7 km wide at a point and almost 19 km long. The lake is one of those places where you want to keep coming back. Since the weather condition is harsh, you need to plan a two-day trip to Tso Moriri while staying at Stok Heritage Palace, our Hotels in Ladakh.
The lake is a part of Tsomoriri Wetland Conservation Reserve under the Ramsar site. No construction, no camps, or any kind of stay option is allowed in the region. The place is full of the diverse flora and fauna of the region. There is a magical feeling when you see the place for the first time. Since the lake is near the Line of Actual Control, you need to get an Inner Line Permit to visit Tso Lake, both as an Indian as well as a foreign national.
The multi-shades of blueish ombre, teal offered by this lake in a picturesque landscape around give this place an extremely romantic, secluded, and breathtaking feel. However, in reality, the place has a hard climate, especially in winters.
There is a very number of cemented accommodation available around the lake in the form of homestays with basic facilities like electricity, medical aid, hot running water, western toilets which also feels like a luxury in itself. The lack of oxygen makes it difficult if your body is not properly acclimatized to its high altitude and hence, one needs to plan their journey very carefully so as to avoid acute mountain sickness. So, even though you might feel tempted to include Tso Moriri in your trip to Leh Ladakh, it is important to plan your trip to this high-altitude place properly.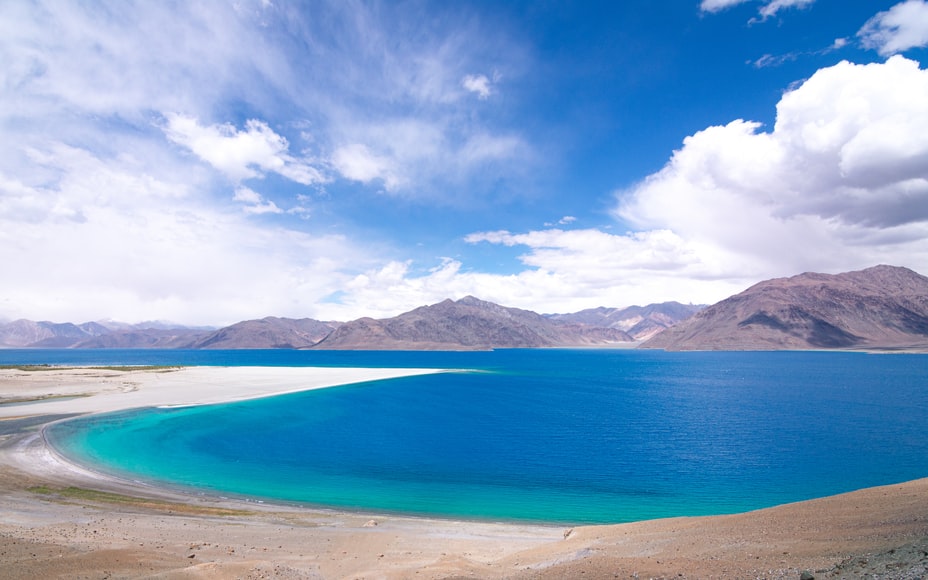 Visiting Tso Moriri In Winter
Most accommodations are packed up after mid-October up to December, and the only nearest place you can stay is either in some homestay in nearby villages with basic facilities to fight the harsh cold temperature at Tso Moriri. Nyoma and Korzok village have some homestays and a guest house in Chumathang. Both these places are warmer than Tso Moriri lake in the winters. There are a few Hot Spring guest houses in Chumathang due to the presence of Hot Spring.
Nyoma has few guesthouses having slightly better facilities to fight the cold and provide comfort in the winter months than the ones in. Similarly, Chumathang has a Hot Spring Guest House and due to the presence of hot springs, Chumathang itself is quite warm and lower in altitude. Or if you have a short trip planned you can return to Leh and stay at our Hotels in Ladakh, Stok Heritage Palace.
Best Time To Visit Tso Moriri Lake:
We would suggest, the best time to travel to Tso Moriri lake is in the summer months. In Summers the temperature is good enough to stay around the lake and do some stargazing at night. In winters, Tso Moriri remains mostly frozen, extremely cold conditions with no options to stay around the lake. In April, the lake starts to melt and starts transforming into a beautiful palette of shades of blue. Then, May to August is the peak tourist season but as compared to Pangong, Tso gets less number of tourists.
Flora and Fauna:
Tso Moriri feels like you are in an isolated paradise where you can find nothing but calm and serenity. This lake attracts various migratory birds such as bar-headed geese, the great crested grebe, Brahmni ducks, and the black-necked cranes. There are 34 species of birds including 14 species of water birds. You may see Tibetan wolves although the chances are rare. The majestic snow leopard also stays somewhere close. While the deeper parts of the lake have no vegetation, the shallow areas are reported to have Potamogeton. Marshes have several species of sedges and reeds, particularly Carex, Caragana, and Astragalus, which are all representative of the surrounding arid steppe vegetation.
Travel Tips For The Tso Moriri Visit:
Indians do not need a permit to visit Tso Moriri, but if you are a foreign national then you'll one. Whether Indian or Foreign, everyone must carry a valid photo ID as proof of nationality. Only if you are habituated to the high altitude in Leh, only then visit Tso Moriri and the interior parts of Ladakh. Distance from Leh to Tso Moriri is a good 250 km. Do not plan one day trip. That will exhaust you. Experience the mystical Tso Moriri during sunrise and sunset. Your vehicles can go up to Korzok village. Since the area around Tso Moriri is a wetland sanctuary, you are not allowed to carry your vehicles closer to the lake.