Ladakh is where prayer flags can be seen fluttering. Ladakh is known for its landscape and magical Buddhist monasteries. The rugged high-altitude desert adorns itself with picturesque mountain lakes and beautiful paddies. Visiting red-robed monks as you roam around, colourful murals and Buddha statues in Ladakh will certainly add to your day.
Here's a list of some of the most beautiful temples that you can visit in Ladakh that are going to leave you spellbound and make you fall in love with Ladakh. You can choose to stay with us at Stok Palace, our heritage hotel in Ladakh which has its own monastery, the Stok Gompa.
Manjushree Temple:
Manjushree Temple, also known as 'Jampe Lha Khang' dates to around 1225 AD. Four pillars form the enclosure for the images. The Manjushree images are on a common pedestal, painted recently to give an overall picture of fright since the decorative scrolls are derived from the tails of Makara surrounded by images of animals, gods and symbols. The normal colour used to endorse Manjushree images is orange, but in this temple, they are represented with different colours.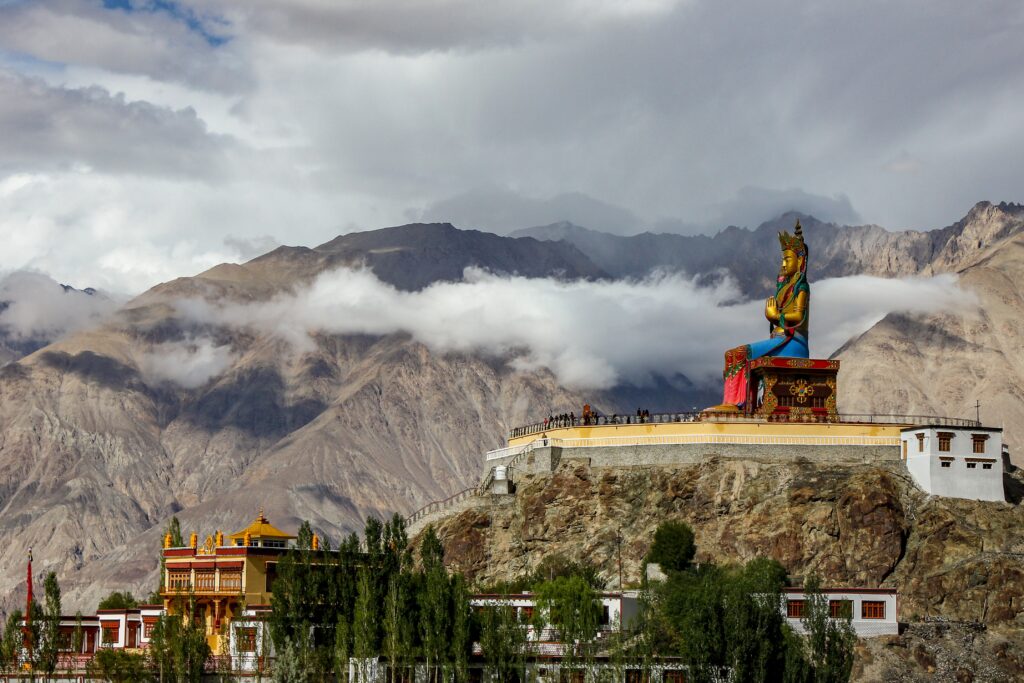 Chamba Temple:
The Chamba Temple was built by King Tragspa Bumde in the 15th Century.
According to the Theology of Buddhism, the final events in history in the Buddhist viewpoint, Buddha supposed that all his teachings, particularly those on moral behaviour would disappear after 5000 years of its commencement and his reincarnation Maitreya would be born again and attain enlightenment and re-teach 'The Dharma' all over again.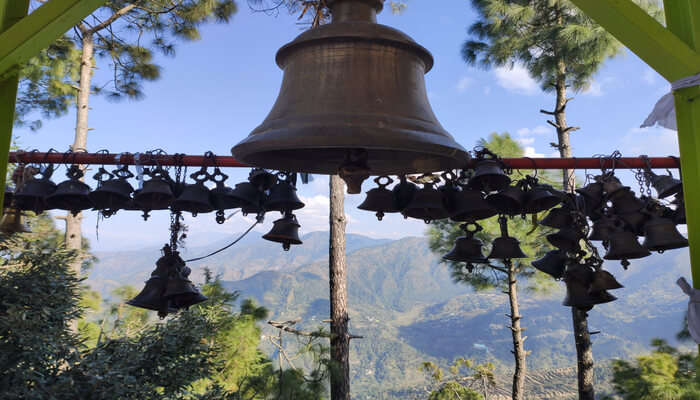 Paldan Lumo Temple:
Paldan Lumo Temple is located on a hilltop near the river Indus in Ladakh, inside the Spituk monastery and is devoted to Vajrabhairava. In the month of January, the annual festival is celebrated and the frightening face of Vajrabhairva is unveiled to the public. It also houses articles of Tantrik worship, strange-looking images, antiques and arms. The temple also contains a shield made of cane. The pillars of the temple are covered with the hides of tigers.
Serzang Temple:
Serzang temple is one of the famous Ladakh temples located near to the royal quarters in Basgo village in Ladakh. Serzang temples were built during the time of 17th century using gold and copper. This Ladakh temple has a copper gilt picture of 30 ft height Maitreya Buddha. The walls of Buddha pictures have been beautifully painted walls of Buddha along with the images of people associated with the Red Hat sect, the temple has also a Serzang manuscript copy of the Tibetan Buddhist Canon, written in silver, gold and copper letters.
Matho Temple:
Matho temple is located at a distance of 26 km to the southeast of Ladakh on the opposite bank of the River Indus. There is a monastery, which belongs to the Saskya Order. Matho temple was founded by Lama Dugpa Dorje five hundred years ago. Shrines and sacred temples are mainly devoted to the guardian deity are to be seen there. Matho Nagrang festival takes place every year during the month of 14th and 15th day of the first Tibetan month.
Vajra Bhairav Shrine:
Vajra Bhairav Shrine is essentially committed to a tantric guardian deity, who belongs to the Gelug-pa order is one of the oldest structures in Spituk. It is usually believed that this divinity has some supernatural powers and is basically revealed to the public only once a year. The rest of the time, this idol is kept inside a chamber, which is present at this shrine. 600-year-old paintings are placed on the walls of this holy place.
Sun Temple:
Sun Temple is a very prominent temple in Leh-Ladakh, which is devoted to the Sun God, Bhaskar. It is a mediaeval holy place, which was created by King Lalitaditya to honour the Sun God. There is a collonaded courtyard at this temple along with the main shrine. Tourists can also observe approximately 84 columns that were used for building this temple. It was also built with hard and square granite, which acts as a souvenir of the architectural style of the previous era.
Staying at Stok Palace or Chulli Bagh, our hotel in Ladakh, you can go around Leh and visit the old and ancient temples.